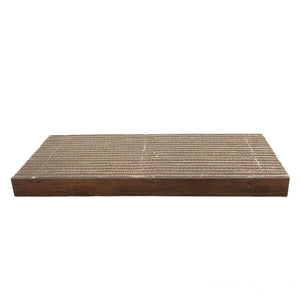 flat scraper
What is a cat scratcher used for?
These would be the basic reasons why a cat needs a scratching post:
File the nails : cats' nails are their identity, which is why they need to renew their nails every two by three.
need to mark the playing territory: cats need to mark and claim certain areas as their own to reinforce their natural instinct.
Exercises and stretching : scratching posts for cats provide them with a means to play and stretch, something very important for their joints, muscles and bones.
Release stress : Cats also need to release stress.
Sofas and furniture in danger : with a scratching post for cats we will prevent them from scratching other furniture in the house.
Shipping Policy:
We ship within 24 business hours of approval of purchase.
The delivery time and shipping cost will depend on the shipping address. We ship anywhere in Colombia.
Delivery time: main cities 1-3 business days, secondary cities 3-5 business days.
---
More from this collection