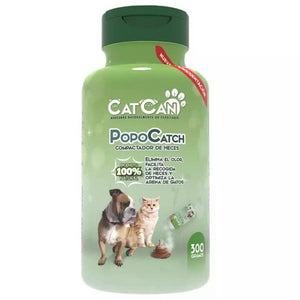 Popocatch (stool compactor)
Popocatch (stool compactor) / 300 grams
CatCan products are 100% national.
-They are natural products based on hydrological enzymes that are activated by water.
-They are not harmful to our animals or humans
-Natural products break down and are better absorbed by the environment, unlike chemical agents.
• Popocatch (Feces Compactor): Facilitates the collection of feces, compacts it, and blocks the smell. Biodegradable product, presented in a 300 gr pead bottle, with a dosing cap for easy application. 100% natural product designed for the accustoming stage of your pet, it is a mineral of natural origin with great absorption capacity, it adheres to the feces, compacting it, facilitating its collection and disposal. Contains additives that help biodegrade feces naturally.
Shipping Policy:
We ship within 24 business hours of approval of purchase.
The delivery time and shipping cost will depend on the shipping address. We ship anywhere in Colombia.
Delivery time: main cities 1-3 business days, secondary cities 3-5 business days.
---
More from this collection